Infant and Toddler House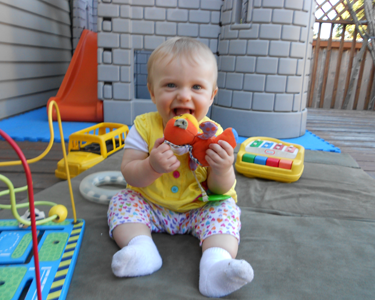 The team at our Little House has a combined total of over 105 years of early childhood education and experience. Every day we are able to exceed the state regulation and encompass infants in a three to one ratio. Our infant specialist has been with us over 15 years; she loves to sing and is very in tune with exactly what each infant needs. Our other infant teacher is Spanish speaking, very patient and takes pleasure in singing songs in Spanish. Our wobbler teacher is always smiling; enjoys being outside with the children and introducing them to more Spanish through language, songs and books. Our toddler teacher is extremely gifted in the areas of science, gardening and children's art. She is able to fill the children's days with meaningful learning through the power of play. Our staff is loving, caring and kind and all of them exceed the training that is required by the Child Care Division.
Daily Activities
Routine is important for a child's self-confidence. For infants, the routine is loose and responsive to their fundamental sleeping, eating and comforting needs. Infants have space to roll, crawl and (eventually) walk. Caregivers help vary children's activities and experiences, giving them time to explore as well as time to be held.
As children grow and develop into toddlers, they are introduced to a little more structure. Their daily routine will include creative play and activity time, morning and afternoon snack, lunch, nap and large muscle time, both indoors and out. We even take sensory walks in the rain and mud now and then.